Basic Metallic Reloading Class
From the beginning loader to the reloader that wants to learn something new
We now offer 3 options:
Basic NRA certified class
one on one – Basic NRA Certified class
Instruction and book only class
Basic NRA Certified Class
The NRA Basic Metallic Cartridge Reloading Class exposes students to the fundamentals of metallic cartridge reloading. The one day course is designed to enable shooters with little or no prior experience in reloading to acquire the necessary knowledge, skills and attitude to produce safe, consistent and accu­rate reloaded ammunition.
The class includes discussion and hands-on instruction. We will cover reloading safety, case preparation, primer selection, powder, bullets, reloading equipment; and the use of manuals, ballistic tables and component assembly. The class is normally conducted in one (long) day.
Class size ranges from a minimum of 3 – to a maximum of 6 students
Course graduates are awarded an NRA Certificate of completion.
The class will be conducted by a NRA certified instructor.
Reloading Class Cancellation Policy
* If you cancel a class within a week of the class, there will be no refund.
* If you cancel a class before that, you will receive a full refund only if you have not already received the student book. You will receive a $75 refund if you have received your book or it has already been mailed.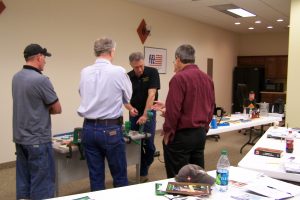 Gift Certificates Available !
Class Dates: (Saturdays)
September 28th, 2019
If these dates don't work for you, we will be adding classes soon.
The other options is to schedule a 1 on 1 Basic reloading class.
The cost is $300 for 1 or 2 students, so find a friend and share the cost.
Class starts at 8 am and ends at 6ish
depending on class participation
Location: Front Range Gun Club
Loveland Colorado
Cost: $100.00
(970)881-2929
Register for the Class by going to: http://www.nrainstructors.org/Search.aspx
Choose – NRA Basic Metallic Cartridge Reloading Course
Then – Do a search by entering the zip (80537) or Colorado.
A list of courses in the area will come up. Choose the date you want and "click for details".
There is a link at the bottom of the detail page.
OR
If you do not have access to a computer, call Bob or Laura at 970-881-2929
Instruction and book only class
This class contains all the information and book that our NRA certified class offers. However, there is no hands on, test, or certificate of completion. The cost for this class is $75. It is held at Jax Mercantile, 1200 North College Avenue, Fort Collins, CO. There is a sign-up sheet at Jax or you can sign-up by calling me at 970-881-2929.
Hours are 9 to 5 (with a 1 hour lunch)
Class size is 4 minimum to 15 maximum
Current dates are:
TBD
Full refunds for classes canceled prior to 1 week before class